In HOLY COW! you need to lead a journey of an absolutely extraordinary cow who not only needs to survive in this cruel world of meat eaters but also wants to produce and collect the biggest possible amount of milk, no matter if the grass field is on the ground, ocean bottom or inside whale's stomach! ..at the same time trying hard to avoid any love stories.

Choose between campaign, championships or player-made scenarios to beat every possible enemy wave in four unique worlds! Enjoy dozens of level types consisting of maze, tower defense, arcade and rogue-like schemes.

Use the extensive Level Editor to put your own scenario together! Take care of every single piece of grass, rock or acid lake to create the most surprising and weird map. Decide about the enemies – which kind, when and how many would appear, as well as achievements and bonuses to get or eat.

Gear up your cow with fancy clothes, horns and boots won or exchanged for milk after each level. Make yourself uniquely stylish and well prepared for the upcoming waves!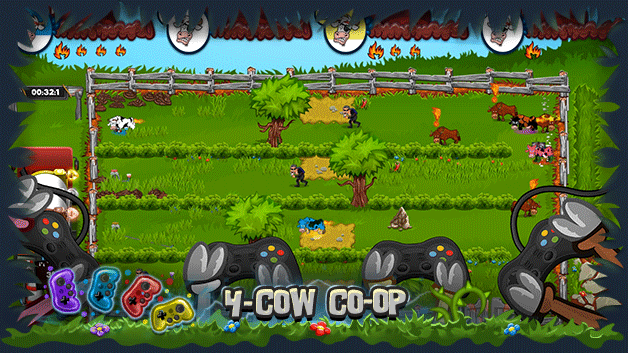 Chill on a couch with your friends and try to figure out the way to beat yet another level together or play the Championships mode to find out who's the best cow whisperer in multiple competitions!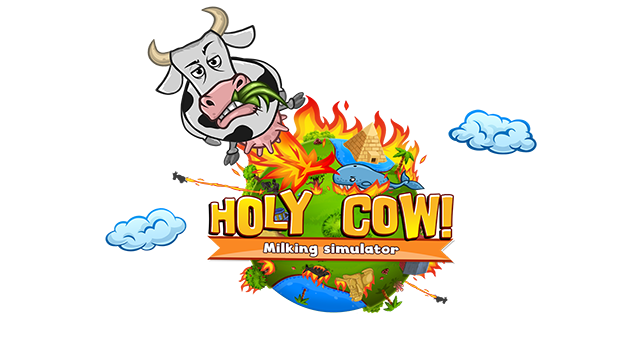 Inform your kids that real cows don't use their poo to stun tractors, eat mechanical parts and equip bazookas to shoot down Aladdins.